Brolink announced best Portfolio Administrator for the second year in a row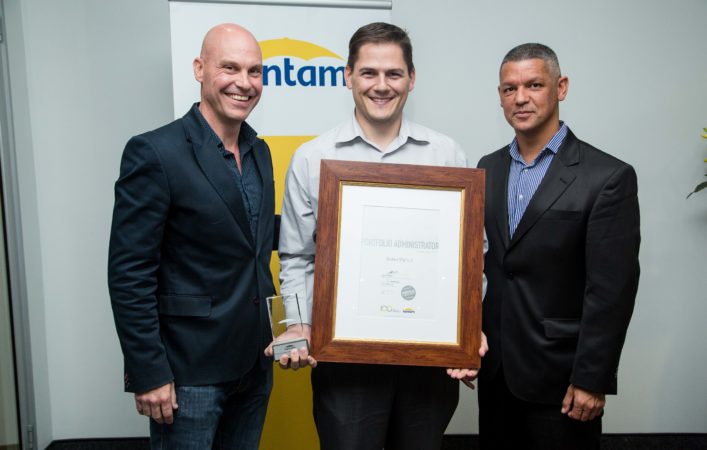 The image above shows Andrew Coutts (Santam's Head Intermediated Distribution), Hendrik Heyns (Brolink's Executive Head: Risk & Projects ) and Daniel Stevens (Santam's Head of Portfolio Administration and President of the IIG).
Santam Insurance, the largest short-term insurer in South Africa, recently hosted its annual broker awards roadshow, honouring providers of excellent service and top performing brokers for 2017.
Going from strength to strength, Brolink – a provider of information technology and business process outsourcing services to the short-term insurance industry – has been, for the second year running, awarded the Santam Insurance Portfolio Administrator of the Year. This award is on the back of the growth and profitability of the Santam business under Brolink's administration.
Pioneers in insurance administration for over 20 years, Brolink, through integration of a highly skilled team and technology, has been providing quality short-term insurance solutions to insurers and brokers alike, enabling them to add value to their clients. The well-deserved recognition by South Africa's top insurer is further confirmation of Brolink's position as a market leader within the insurance industry.
"This award is a significant achievement and to win it two years in a row requires a focused approach and that is exactly what Brolink delivered," says Daniel Stevens, Santam's Head of Portfolio Administration.
"We are delighted to receive this recognition," says Hendrik Heyns, Executive Head: Risk & Projects at Brolink. "We truly believe in providing a valuable service and have our dedicated team to thank for delivering the highest standard of administration to our brokers and insurers through quality processes and systems."
This press release has also been popular across the industry publications:
FAnews Online: Brolink scoops Santam award second year running
Cover Magazine: Brolink awarded Portfolio Administrator of the Year 2017