Personal Insurance vs Commercial Insurance: What's the Difference?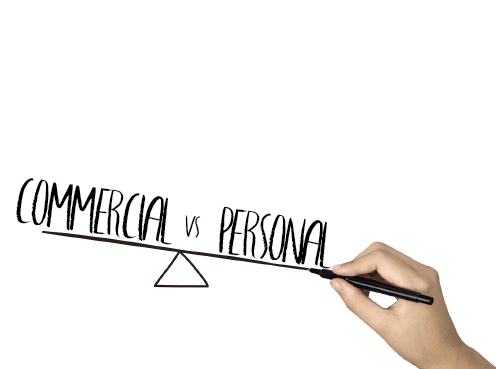 Personal Insurance vs Commercial Insurance: What's the Difference?
Like personal car insurance, commercial vehicle insurance covers you in the event of theft or damage to your car or truck after an accident. It also can include personal injury cover, medical cover, and third party cover for other vehicles that may be involved.
Despite these similarities, there are several key ways that commercial vehicle insurance is different to personal insurance. These include:
Higher risks. A commercial vehicle is typically used far more often than a personal vehicle, and often involves carrying abnormal loads. For this reason, there is a higher chance of damage to the vehicle or of it being involved in an accident. Because of these increased chances, there is more risk with insuring commercial vehicles than with insuring vehicles for personal use.
Higher premiums. Because of the higher risk with insuring commercial vehicles, your premium – the monthly fee that you pay an insurance company – will be higher. At the same time, commercial vehicles such as large trucks are much more expensive than smaller cars, and so will need to be insured for a higher value, which also adds to the higher premiums.
Multiple drivers. In many cases, more than one person will drive a commercial vehicle. For example, if your business has a fleet of vehicles, you may employ several drivers, while if you own trucks for transporting goods, you may have a team of truck drivers. For this reason, a commercial vehicle insurance policy needs to extend to every driver.
Transporting non-owned goods. In a business environment, you could often be transporting goods in your vehicle that don't belong to you. If something happens to them, for example they're damaged in an accident or stolen, commercial insurance covers the replacement of those goods even though they don't belong to you.
Broader geographical cover. Businesses in the transport industry especially may involve using commercial vehicles to travel far distances, even into neighboring countries. Commercial car or truck insurance therefore needs to give you the option to cover the vehicle in several different countries or territories.
Call our Brolink Insurance Brokers to get the best commercial insurance rates for your business.
Source: Hollard